UPDATE:
I forgot to mention that these are Cassie's senior photos that Megan took. She's quite the photographer.
My baby sister graduated from high school last week. I can barely believe it. She was born when I was a teenager and she was a baby that was wanted and hoped for and prayed for in our family.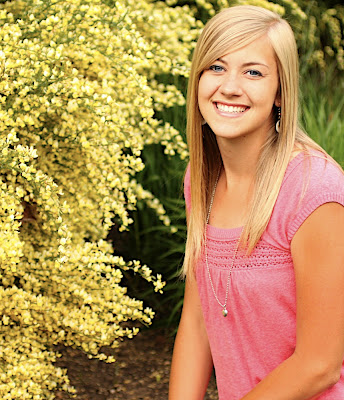 My dad went to law school when he was forty years old and when I was just starting junior high. My parents had seven children when they went back to school and they had very busy lives. I remember though begging my mom to have another baby. I had one sister but I wanted another and in my naivete, I just assumed that all mom and dad had to do was decide to have another baby. I didn't understand how much another child adds loads of responsibility and time and care to their lives. 
Shortly after Dad graduated from law school, I had a birthday. A couple of weeks before my birthday, my mom started laying hints for me about what an incredible birthday present she had for me. As a teenager, my mind went a bit wild. What was I getting? A car? Some furniture? A bunch of new clothes? I was so convinced that this present was really big that I wouldn't go out to the garage for a couple of weeks just in case I stumbled upon my fabulous little red convertible that Mom and Dad were stashing away for me in there. 
A few days before my birthday I was home sick from school. Some time that day my mom came in to my room and told me she couldn't take it any longer and she was going to give me my birthday present early. Then she told me she was six weeks pregnant. 
I burst into tears I was so happy. 
The following June, Cassie joined our family. She was the eighth child, the third girl and so, so wanted. We were all so thrilled with her arrival. She's been a joy and a pleasure since then. I know she gets a hard time because she is the youngest and she didn't grow up on the farm or suffer through the hard years of law school and Dad's early years as an attorney. But I think she is only teased about that because they can't find anything else to tease her about. What would we do without Cassie? Mom says she has kept them young and full of life and vigor. I say aren't we lucky?
Happy Birthday, baby sister.